Cyber Security Boston
Computer Data Security and Network Security for companies in Massachusetts, Rhode Island, and Southern New Hampshire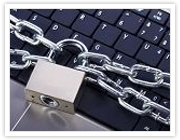 Does affordable protection from the dangers of hackers, malware, and viruses seem beyond your reach? Let alone the possibility of accidents and internal threats such as lost laptops or USB drives?
With Computer Data Security solutions that are created to be affordable, you can rest easy knowing your business is safe. We'll earn your confidence in our cost-effective strategies for Wireless Network Security and Virus Removal solutions for your business in Braintree, Boston, Cape Cod and throughout Massachusetts, Rhode Island, and Southern New Hampshire.
The strategic security framework from America One includes:
Intrusion Alerts - insurance against online threats, hackers, and menacing predators
Liability Assessment - we look for weak spots in your infrastructure and create solutions to mend them
Virus and Spam Protection - safeguard your company and data from malware, spyware, and other viruses
Secure Access Preferences - which allow for passwords, encryption, and virtual private networks

Affordable, ironclad protection for your computer network keeps you and your business safeguarded.
America One's security strategies provide an affordable solution custom fit just for your unique business. Serving businesses in Braintree, Boston, Cape Cod, Plymouth, Quincy, Cambridge and throughout Massachusetts, Rhode Island, and Southern New Hampshire, we offer Wireless Network Security services with a flat fee that's kind to your budget.
No matter whether your business needs wireless network security, virus removal, data security management, computer data & PC security, powerful network firewall, Internet security, virus protection, or security consulting, we've got the solution.
Safeguarding your business systems and data is a requirement in today's world. Defend what really matters, with Virus Removal, Spam Prevention, and Computer Data Security that's reliable in both cost and protection.