IT Staffing for Boston Businesses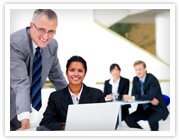 IT Staffing Services from America One Tech can take your business to the next level, allowing you to modernize and work more efficiently.

Whether you're looking for short term or long term staffing, America One Technologies can provide the right person to support your environment.
IT Services from America One include:
Temporary Tech Staffing/Staff Augmentation - we match your needs with the right America One Technologies engineer
IT Department management – We will collaborate with your business team to design an IT strategy that helps you exceed your business objectives
IT Staffing Services from America One will bring the IT talent and skills you need to your team.