Microsoft SQL Development
Make the important business decisions - faster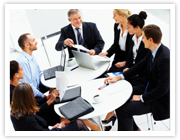 Access to up-to-date information is vital for you to make the right choices that will ensure the continuing success of your company. Microsoft SQL Server from America One provides businesses like yours with the all the important data you need at your fingertips, when you need it the most.
Microsoft SQL Server from America One helps you get the most out of your data, by delivering a next-generation integrated database management and analysis solution that will benefit your whole business.

If you're looking to make data-driven decisions while continuing to scale your infrastructure to meet ever-increasing business demands, America One has the answer.
With Microsoft SQL from America One you get:
SQL Analysis Services - providing you with an integrated view of all your business data, regardless of its location
SQL Integration Services - a platform for developing your own data solutions without writing a single line of code
SQL Reporting Services - deliver relevant information across your entire business
Easier collaboration - share your data across multiple platforms and applications