Managed IT Services for Boston Businesses
Cost Effective IT management services and computer network maintenance for businesses throughout Massachusetts, Rhode Island, and Southern New Hampshire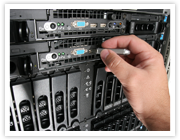 Are you at a loss when it comes to budgeting for your IT maintenance costs? IT Support from America One Tech helps you eliminate unpredictable costs related to the management and maintenance of your technology.
Predictable and reliable cost forecasting is key with IT Management and IT Support from our team of experts in Braintree, Boston, Cape Cod and throughout Massachusetts, Rhode Island, and Southern New Hampshire.
With Managed Services from America One, you can:
Boost productivity - with technology that makes doing business simpler
Secure your business focus - our team of experts shoulder the burden of technology
Predict your IT costs - with an all-inclusive fixed monthly rate
Protect all you've worked for - with world-class security for your data and network

Stop worrying about your budget once and for all with our monthly flat-rate plan and watch your business soar.
America One works with you to ensure you're getting the most out of your business IT investment. Working for companies in Braintree, Boston, Cape Cod, Plymouth, Quincy, Cambridge and throughout Massachusetts, Rhode Island, and Southern New Hampshire, our solutions in IT Management and computer network maintenance optimize your business technology at an affordable price.
Whether you need computer server management service, network management, computer network installation, remote and on-site IT support, technology consulting, wireless networking, network infrastructure, or systems integration, we can take care of it.
The excellence we bring your business in customer service and computer support is as unique as you are. Aligning with us, your committed partner in computer network maintenance, you can stop worrying and take your business to the next level.